Education and Research
Medical Education
Thus far Dr. Randolph has partnered with two laboratory educational programs; one in Gonaives in conjunction with Pastor Michel and Eben-Ezer Mission and the other in conjunction with Dr. Manno at Eben-Ezer clinic in Haut-Limbe. Dr. Randolph has provided lectures to laboratory students and laboratory materials to the program director to support these two laboratory training programs.
In 2009 Dr. Randolph was approached by three partners (Dr. Steve James at Eben-Ezer in Haut-Limbe, Dr. Rodney Baptiste at Bethesda in Vaudreuil, and Pastor Michel at Eben-Ezer Mission at Gonaives) about establishing a Christian Medical University. We are currently discussing these possibilities and are seeking healthcare professionals who are called to write curricular materials and deliver lectures in Haiti.


Medical Research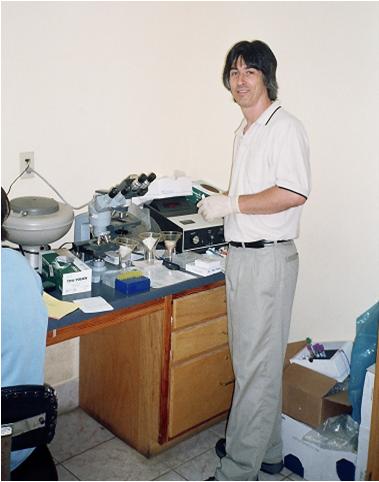 Three years ago Dr. Randolph redirected his university research toward medical issues in Haiti. Since then he has developed a new diagnostic laboratory test for sickle cell that overcomes the barriers encountered in Haitian medical clinics. Laboratory testing in Haitian clinics must be inexpensive, fast, simple, and preferably not require electricity (power or refrigeration). The new sickle cell test has shown a very high sensitivity (>95%) and specificity (100%) when performed by the research team on Haitian samples. The new test is currently being field tested in four partner clinics to determine sensitivity and specificity when performed by unsupervised Haitian laboratory professionals on Haitian patients. The field testing phase of the project is being funded by two small grants from the American Society for Clinical Laboratory Education and Research Fund (ASCLS E & R) and the Jack DeLoss Taylor Charitable Trust Fund.


The goal is to obtain grant funding to test and treat all patients diagnosed with sickle cell anemia among our partnering clinics. Each participating clinic would serve as a sickle cell center for that region of the country. In support of the sickle cell program Dr. Randolph is also investigating a method to test for HbF and HbC that can be used in Haitian labs. Measuring HbF is necessary to determine a patient's response to a drug used to treat sickle cell anemia. HbC is a similar anemia as sickle cell that has been identified in Haiti but it is much less severe. However, patients with both sickle cell and HbC together (HbSC) complicate the results of the sickle cell test and must be differentiated from pure sickle cell anemia.
Dr. Randolph is also field testing test methods developed by research partners for such things as Gonorrhea, Chlamydia, a new hemoglobin instrument, and other methods. In addition, he is investigating testing methods that are more stable and less expensive than existing methods (i.e. serum bilirubin method).
Lastly, data from the free mass screening is being used to determine prevalence and incidence of certain disease to guide the clinical practice of Haitian physicians and expand the medical literature regarding medical conditions in Haiti.